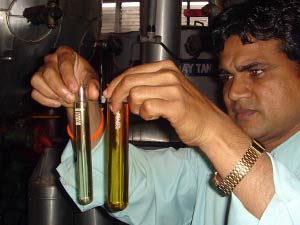 The main objective of the SAHYOG Project Twinning is to invite project coordinators of on-going EU and Indian projects to engage in project Twinning. The concept of Twinning is based on exchange of research that goes beyond exchange or research results at regular scientific conferences and workshops.

Through facilitating and coordinating Project Twinning, SAHYOG brings together project coordinators and other lead partners from past and ongoing projects as well as international networks in order to consolidate R&D results, exploit synergies and thus build up a critical mass for future EU-India research collaboration in the biomass and biowaste valorization area. In addition, funding program managers from selected countries will be mobilized.
By twinning of projects, project participants will discuss potential areas of scientific cooperation with their counterparts, based on pre-agreed identified priority subject areas. The Twinning is finalized upon approval of the joint work plan between the on-going projects and research networks. Furthermore, project leaders will be asked to go beyond the scope of their project and identify new areas for collaboration in their field of work.


SAHYOG Twinning Information Leaflet
Twinning Research Themes
SAHYOG Mini-SYMPOSIUM and TWINNING WORKSHOP
Developments in Sustainable Biomass Valorisation EU-India R&D collaboration on Biomass and Biowaste
28-29 October 2013, Utrecht, The Netherlands
In this MiniSymposium and Twinning Workshop, specific views and insights will be presented on the following topics:
What are major drivers in biomass utilisation and valorisation in the international context?
What underlying policies and roadmaps can lead to more sustainable use of biomass?
What is the industry's role, and what can public-private partnerships bring to the table?
What are major topics for collaboration, in particular with India-one of the largest growing economies in the world?
The Symposium and Workshop specifically aims at bringing European and Indian researchers and project developers together in order to benefit from shared knowledge and experiences.

SAHYOG Twinning Contact

Dr. Rainer Janssen
Dipl.-Ing. Dominik Rutz M.Sc.
WIP Renewable Energies
Phone: +49 89 720 12743
| | |
| --- | --- |
| Email: | This email address is being protected from spambots. You need JavaScript enabled to view it. |
| | This email address is being protected from spambots. You need JavaScript enabled to view it. |
Dr. Robert Bakker
Wageningen University & Research Centre Food & Biobased Research
The Netherlands
Phone: +31 3174 81167
Email: This email address is being protected from spambots. You need JavaScript enabled to view it.