Second SAHYOG Summer School
20-26 July 2014, Tezpur, India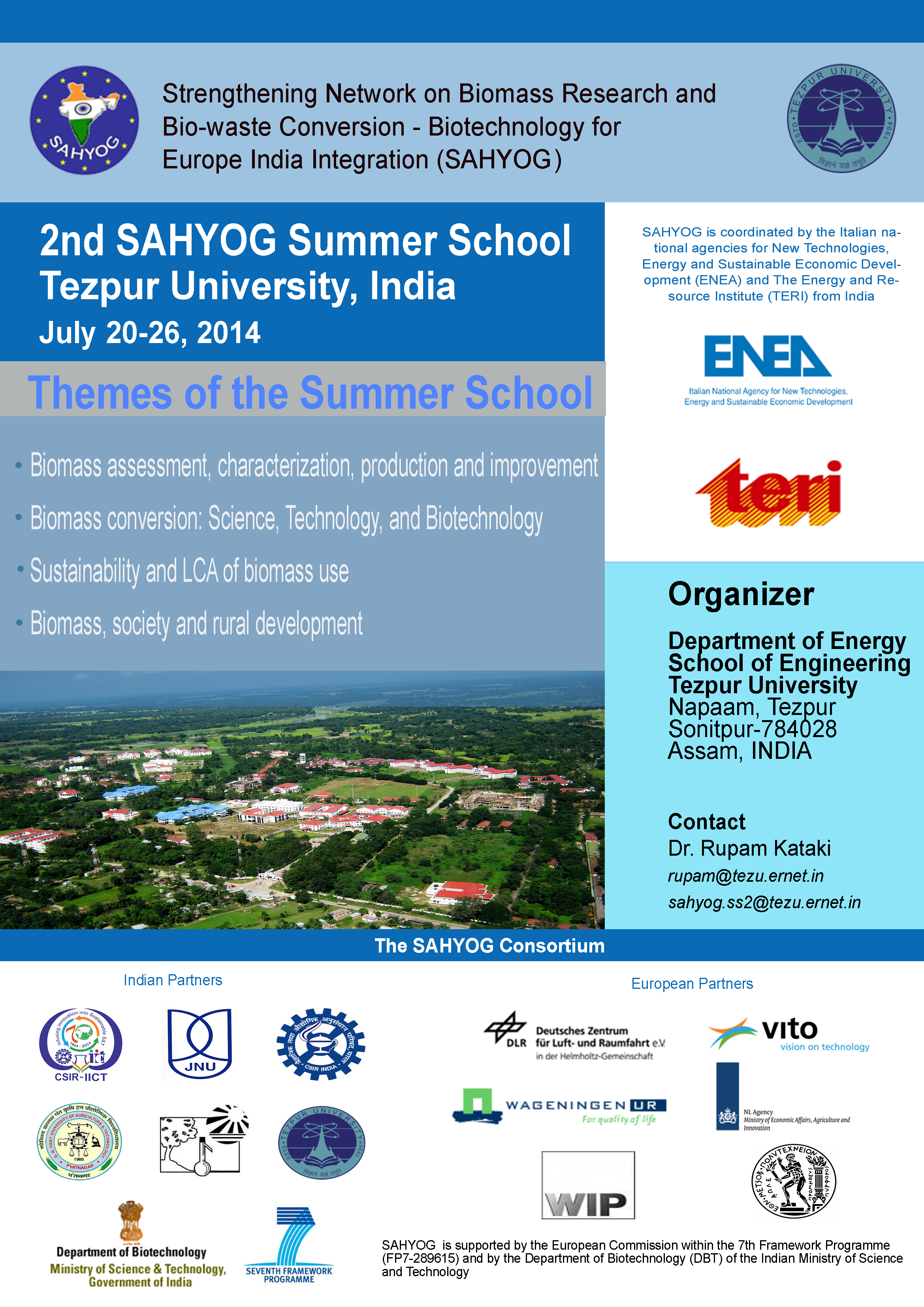 The second SAHYOG Summer School was held to stimulate the research cooperation between Europe and India in the field of the biobased economy. The Summer School encompasses a broad range of recent developments on biomass and bio-waste conversion routes including the sustainability and LCA of biomass energy for rural development.
The Tezpur Summer School was organised by the responsible SAHYOG partner, Tezpur University, Tezpur, Assam, India, and particularly by the Department of Energy, a dedicated Department with thrust areas on Renewable energy, energy conservation and management and energy environment interaction.
Download:

Contact:
Prof. Rupam Kataki
Tezpur University – Assam
Phone: +91 3712 267 007
Email: This email address is being protected from spambots. You need JavaScript enabled to view it.
SAHYOG Summer Schools
First SAHYOG Summer School
9-16 June 2013, Athens, Greece
The SAHYOG Athens Summer School will be organised by the Bioresource Technology Unit (BTU) of the National Technical University of Athens (NTUA) and will take place on 9-16 June 2013 at the NTUA Zografou Campus.
Interested young Indian and European researchers are kindly invited to express their intention by email to the Summer School Secretariat, along with (a) their CV and (b) a brief rational (max. 1 page) on the links of their research with their attendance of the Summer School. The deadline for applications is 28 February 2013. Applicants will be informed on the outcome of the selection process the latest by 15 March 2013.
The fee for Indian participants nominated by SAHYOG partners and selected by the organisers will be covered by project funds. European participants nominated by SAHYOG partners and selected by the organisers will pay a reduced fee of 500 Euro. All other selected participants will pay the full fee of 800 Euro.

For more information on the SAHYOG Athens summer school see the following documents.
Contact Info:
Bioresource Technology Unit
School of Chemical Engineering
National Technical University of Athens
NTUA Zografou Campus
GR-15700 Athens, Greece
Tel. +30-210-772 3288 (Miss Sofia Papadaki)
Fax: +30-210-772 3163
Email: This email address is being protected from spambots. You need JavaScript enabled to view it.
Prof. Emmanuel Koukios
National Technical University of Athens
Phone: +30 210 7723191
Email: This email address is being protected from spambots. You need JavaScript enabled to view it.
General SAHYOG Contact for Summer Schools