In order to switch from fossil fuels towards a bio-based economy, it is important to make significant steps towards the leading sources of biomass and wastes for biofuels and other products. The various research studies conducted in this field at the national and international level could be of great help to evaluate the best possible solution to better face the major societal challenges outlined in Europe 2020.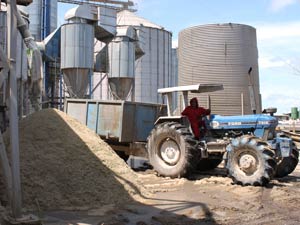 On the basis of research being carried out to investigate and demonstrate the potential of biomass and biowaste in Europe and in India, some technical, economic and financial information has become available in recent years. However up-to-date information on biomass and biowaste and their direct or indirect nexus with climate change is still lacking for users.

In the framework of the SAHYOG project the following detailed inventories for the targeted research areas biotechnological approaches for biomaterials and bioenergy production and sustainable conversion of biowastes are elaborated:
Inventories on Research Programs and Projects
Biomass and Biowastes Inventories
Adhering to the truly collaborative nature of SAHYOG project, the members of the SAHYOG consortium welcome contributions from other researchers, scientific community, stakeholders and general public in informing about the existing inventories on Biomass, Biowaste and related research projects. If you are interested in contributing, please do contact us.
A) Inventories on Research Programmes and Projects

Fully searchable SAHYOG Inventories on Research Programs and Projects are now available under www.sahyog-projects-database.eu
Reports available

The main objective of this inventory is to create an overview of existing programs and research projects in Europe and India. Such programs and projects exist on state level and on Indian or European level. In order to understand the relevance and expected output of the programs, program drivers are analysed. These drivers can differ between stakeholders (industry, R&D, policy) as well as between nations and regions, based on differences in climate, eco-system, culture and economic situation.
SAHYOG Contact for Project Inventories
Kees Kwant
Netherlands Enterprise Agency – Ministry of Economic Affairs, Agriculture and Innovation
The Netherlands
Phone: +31 8860 222458
Email: This email address is being protected from spambots. You need JavaScript enabled to view it.
Dr. Priyangshu Manab Sarma
TERI - The Energy and Resources Institute
India
Phone: +91 11 24682100/24682111
Email: This email address is being protected from spambots. You need JavaScript enabled to view it.
B) Biomass and Biowastes Inventories
Fully searchable SAHYOG Inventories on Research Programs and Projects are now available under www.sahyog-biomass-database.eu
Report available

There are significant numbers of research activities coordinated by EU and Indian funding agencies on biomass conversion. The SAHYOG Biomass and Biowastes Inventory will focus on documenting a detailed regional level analysis for availability, supply chains, and other factors such as transportation of the potential biomass and biowaste feedstocks for sustainable conversion to bio-material and bio-energy.
SAHYOG Contact for Biomass and Biowastes Inventories
Dr. Priyangshu Manab Sarma
TERI - The Energy and Resources Institute
India
Phone: +91 11 24682100/24682111
Email: This email address is being protected from spambots. You need JavaScript enabled to view it.
Dr. Neeta Sharma
ENEA - Italian National Agency for New Technologies, Energy and Sustainable Economic Development
Phone: +39 0835 974424
Email: This email address is being protected from spambots. You need JavaScript enabled to view it.